Screenprinting
Here is an excellent marketing tool that is versatile and economical. Decorate a garment with your business name or logo and it becomes a comfortable and attractive uniform for shop personnel, a reward for your sales staff, a goodwill gift for valued customers, or an advertising medium for hot prospects.
We print on
T-shirts
Sweatshirts and sweatpants
Jackets
Team uniforms
Towels and bags.
Ink colours
Choose from our wide variety of stock inks. See our swatch list at the bottom of this page.
Does your logo have a Pantone colour?
We can match any Pantone colour you like from the Pantone Solid Coated Book.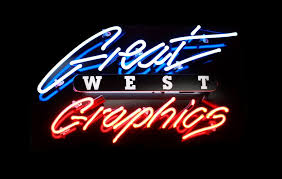 Printing services
We have the latest automated screen-printing equipment and can produce your job on-time and on-budget.
Single & multi-colour
Puff printing
Spot process colour printing
Nylon printing
Dark garment printing
Embroidery
Looking for a professional appearance? Embroidery is the way to go. We provide high quality embroidery on caps, flatwear, jackets and athletic uniforms.
Design services
Don't have a logo?
We'll design one for you! Just call our sales reps to get the ball rolling.
FAQ
How much will it cost to embroider my logo?
Embroidery pricing is based on the number of stitches. We can provide a quote if you e-mail your logo attached as a jpg, tif, eps, or bmp file to Email ivee@greatwestgraphics.com.
We will get back to you with the per unit cost and the cost of creating a DST file of your logo.
What is a DST file?
A DST file is a stitch-by-stitch digital map of your logo that tells the embroidery machine how to create your logo in stitches and colour.