Looking to get custom embroidery on garments? Look no further. Check out Great West Graphics. We are a wholesale embroidery and screen printing company. Our specialty is providing custom embroidery on garments and promotional products. Although based in Vancouver, we also provide shipping to all over North America.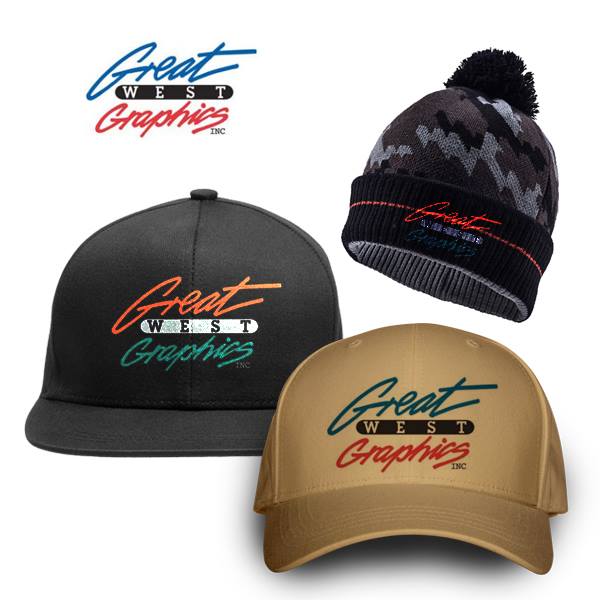 We specialize in quality embroidered apparel at budget prices and offer a range of printing styles to meet all your custom clothing needs. Whether you are a corporate wholesale client, fashion label, sporting team, school or anyone needing embroidery apparel or promotional products, we can help.
While we specialize in wholesale custom embroidery and screen printing, we also have several clients requiring regular smaller runs. Whether you are a large or small business, our friendly team can offer you options to suit your specific printing needs.
We guarantee you the best results using the best printing process, at the best price!
Every client is different, every job is different, that is why we tailor a quote to meet your specific needs. Call us at 604-321-3285, or email us info@greatwestgraphics.com.
The degree of creativity, use of color, subtle changes in design, emotional response to a particular setting or situation, all aspects attributed to 'art', can be found in embroidery. Embroidery is an art form that uses a needle, a thread  to produce the design or logo on a fabric. Previously, it was done by hands. That took a long time to produce a single design. Now a days, we use machines that takes the design file as input and produce the designs automatically.
Custom embroidery gives the garment a rich and aesthetic impression, and is versatile enough to be used on formal and informal clothing, and customization of many other products. Be it large or small text, or complicated logo designs, with our state of art embroidery machines and superior digitization quality, we are able to produce impeccable results. It assures the long term impact of design and is more affordable.
Custom Embroidery can be done on the following:
Polo shirts, Corporate shirts and trousers.
Hospitality and medical uniforms, aprons.
Sports and school jerseys and shorts.
Hi-Vis work wear, soft shell jackets, hoodies, shorts and trousers.
Travel bags, sports and school bags, laptop and conference bags.
Head-wear like caps, beanies and bucket hats.
Towels, bathrobes, blankets, and children's clothing.
Our Embroidery Process
Our custom embroidery process is very simple: gather customer requirements, logo details, send mock-up and quote, get approval and proceed for production.
Firstly, we gather the customers' requirements. For example, how many units in total, location and size of the logo, the garment requirements, deadline, etc. Garment requirements – buying the garments from us or customer supplied garments. If buying the garments from us, then we get information such as the material, neck-styles, sleeve lengths etc.
Secondly, we get the logo details. We ask the customers to either send us the logo via email or bring it to us in a USB. Once we have the logo, we need to get it digitized. The customers can either send us the DST file or get it from us. If getting the DST file from us, then there will be a one-time fee. We can use this DST file for future orders.
After we get the DST file, we send the quote to the customers based in the stitch count of the logo. Along with the quote, we also send a mock-up of the logo for customers' approval. Once we get the approval, we proceed with the production.
Summary
The advantage of embroidery is that it provides an extremely durable, vibrant imprint that will survive number of wash cycles.

We require a high resolution image in PDF/PNG/JPEG format to convert the artwork into machine readable embroidery format (Digitizing).
There is a one-time ONLY set up fee for artwork digitization.
We provide a digital proof of the embroidery for approval by the customer before proceeding with processing the order.
Please note that different fabrics and the quality of the particular fabric will affect the final appearance of the stitched out logo.
We will follow the color specs on the logo file that has been provided to us unless advised by customer to change it permanently on our records.
We do not charge extra for change of colors to be made to the original logo file that has been provided, to suit the background color of the garment, as we believe in providing that option as a service to our customers.  However, it is the customer's responsibility to request change of colors on different garments as needed on each order as we cannot assume that.
Our hardworking team will make you assure to get your design ready on the first day of the production and will take two to three business days to process your order if the order is in bulk.
Other Services
In addition to custom embroidery, we also provide other services such as screen printing, heat transfer, digital printing, tags and labels etc. We also provide several promotional products such as pens, mugs, bags, table cloth, towels etc. Apart from decorations/customization, we also sell apparel such as t-shirts, hoodies, sweatshirts, hats, jackets etc. Visit us at #105-342 East Kent Avenue South Vancouver BC V5X4N6 to see samples of various products. Give us a call at 604-321-3285 or email us at info@greatwestgraphics.com for any queries or concerns.
For more information on custom embroidery or other services, Contact us at 604-321-3285  or email us at : rosie@greatwestgraphics.com
. Also, We offer affordable and reasonable shipping to all over Canada. Follow us on Facebook, Instagram, and Twitter or visit our official website for more updates.